Muna has danced since her childhood. She has danced an oriental dance as a folklore in her native exotic country -in Syria, where she was born. Her full name  is: Muna Al Muchantaf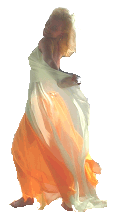 Muna leads oriental belly dance courses in Prague in groups of 10-15 women. Also she offers individual classes.
Courses are led in a very professional way. Women in these courses should relax in a very comfortable place where they start to have full sense of self-consciousness.´The owner of the dancing studio is Muna by herself.
Every woman has an exceptional beauty on her own and with oriental dance she should know her secrets.
Don´t hesitate to invite Muna to any country in the world to your workshop!

                                                                Muna
                                 Do you ask what does this exotic name mean?
                                 The answer is very simple, this name means:
                                         "Everything what would you wish"
       This sentence is similar to Muna's manners of teaching and her style of dancing.